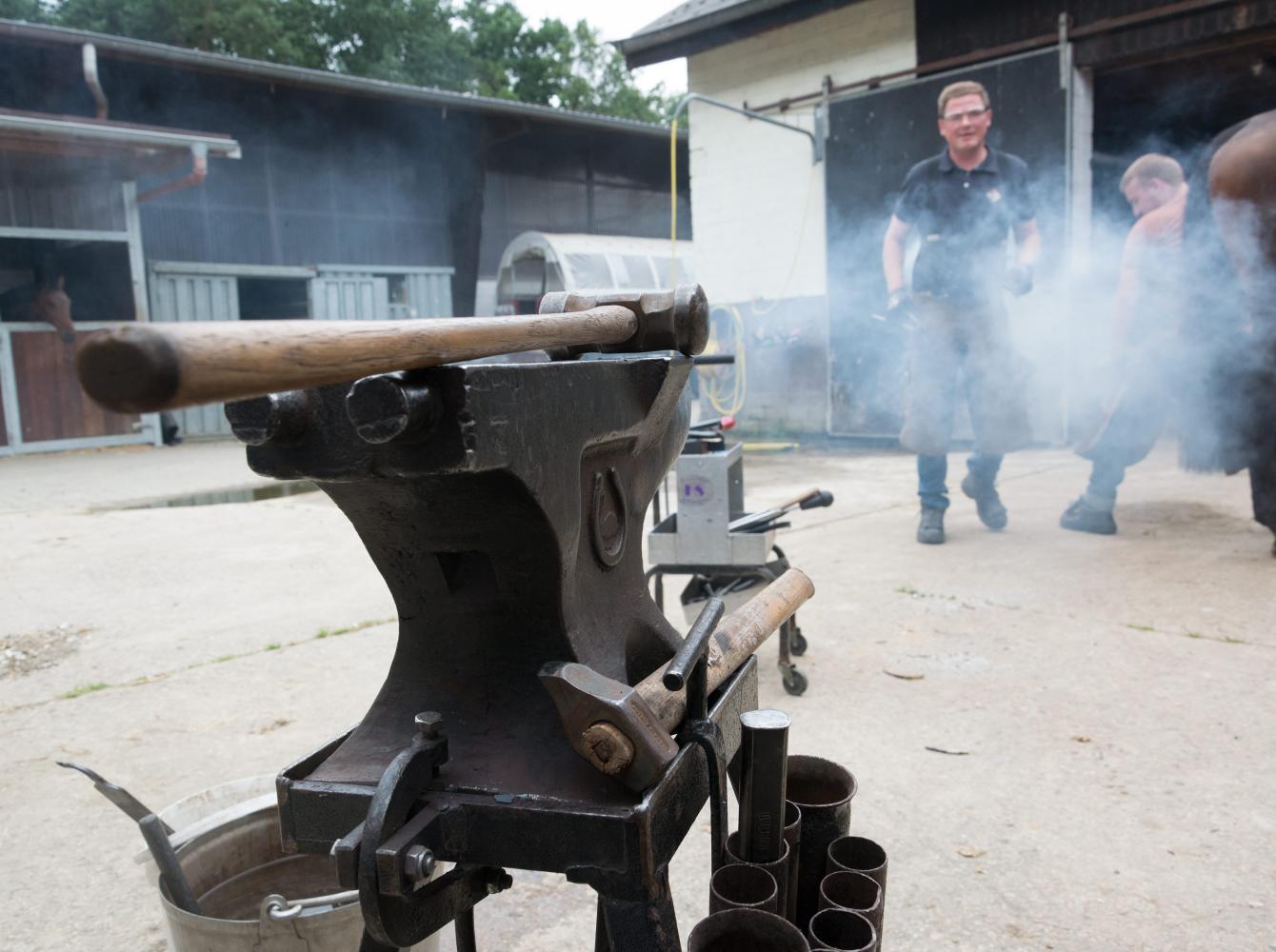 Every horse deserves the best possible shoeing
German farrier Errol Wernike shoes 400 horses
Errol Wernike (1983) started his own farriery at the age of 23 after 3 years at the farrier school of Christoph Schweppe in Dortmund.
Since he was 6 years of age, Errol has been riding and became fascinated with horses, even though nobody in his family had horses or had the same interest in them as he did. From 12 years of age he had his own horse and came into contact with the local farrier that shod his horse at the time, Norbert Offer. Since that moment Errol knew he wanted to become a farrier. Norbert and his brother Wolfgang Offer took Errol on as an apprentice. Up until this day he still works together with Norbert and Wolfgang, shoeing horses at the same stable one day a week.
Riding school pony or a top international horse, they need to get the best shoes, always
He works mainly with dressage horses, some jumpers and some leisure horses.
His customer base grew quite quickly when he suddenly had the chance to take over from a retiring farrier who was handling the horses of Hinemann, a famous German dressage trainer. This gave him instantly 50 horses extra and with that he really started building up his business. Now he has over 400 horses in his customer base, and is very happy with that. If he would take more customers he would need to get more farriers to work for him and he thinks things are good as they are now. Working together every day with 2 other farriers, in a team of 3, works perfectly. This is how he selects his customers.
In the beginning he was still going to the Holsteiner Verband every 4 to 5 weeks, but at a certain point it was taking too much time to travel back and forth with the customers growing in his own region.
Errol really tries to go to clinics or events a few times a year to keep up with all the new things on the market. "I always try out new products", "that is why I Iove going to buy at Strohm; I go in the shop, they have everything, including new products to try".
Tips for shoeing (dressage) horses:
- always look at the total horse and its movement, also when ridden by the regular rider. Don't look ONLY at the feet
- don't overrasp the feet, leave as much horn as possible
- ask a fellow farrier to help you if you run into a new or very special case, I;ve learned a lot from others and still do.
If I look at what kind of shoes I was using at the beginning of my carreer and what I'm using today, there is a big difference. Learning by doing, and you learn from your mistakes.
The owners get more knowledgable about hoofcare
Going to events and clinics had a big influence on how I'm doing my work today, but also the owners get more knowledgable about hoofcare in general. "I see less hoof diseases with my customers these days, because they do have a better sense of how important good hoofcare is for the horse and its influence on the total well-being of the horse."
Shoes like the Equi-Librium had a big influence on the market, not only on farriers but also with horse owners asking for it, as Ingrid Klimke was using it also for her horses.
For now I'm extremely happy, good business, great customers and a fantastic team to work with.